Update – June 29th 2020
The countdown has begun … In two days the world will change forever 😉 As we still don't know whether Qlik announces some free very limited cloud solution, there is still one way to keep your QS Desktop running without a commercial license. Yet, the thing is, it is meant for development purpose only – not for production: the Unlock file available on Qlik Branch. Register first, select your profile (1) and follow instructions given in the bottom-left corner (2). Note that there have been some issues identified with June 2020 version. That's why it's better if you try it with April 2020 release (as of June 29th).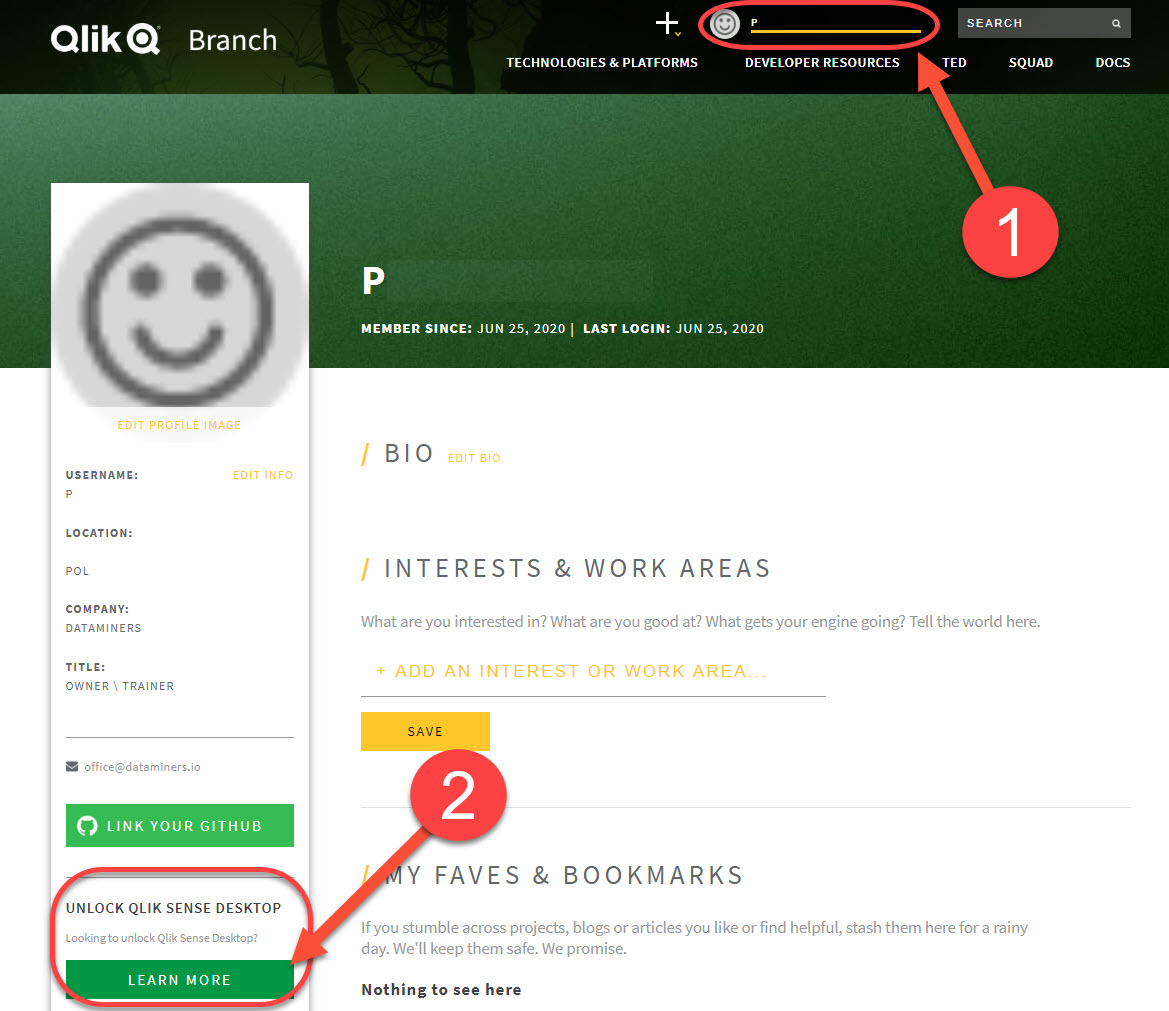 The good news is an increasing number authentication methods related to various commercial  offerings – including (QS Enterprise) valuable complementary products as e.g. Qlik GeoAnalytics, DataMarket and Qlik Connectors. That definitely makes Qlik offering even more interesting.
Official website for Qlik Sense Desktop changes: https://community.qlik.com/t5/Qlik-Support-Updates-Blog/Changes-to-Qlik-Sense-Desktop-in-2020/ba-p/1653306?_ga=2.183448486.1450568597.1592826771-37650829.1559045301
Intro
Qlik has already announced moving from Freemium model to time limited trial. That means, using both – Qlik Sense Desktop and Qlik Cloud Basic – will no longer be free of charge
Right after the message was published we've seen negative feedback in the Qlik environment
What are the implications for Qlik users and Clients?
How does it fit into Qlik strategy?
I won't hide it. I have been also disappointed. Yet, isn't it a typical emotional reaction when someone takes something back from you. I remember that feeling when I read the announcement in my student canteen "As of December 1st, lunches will no longer be subsidized". Well frankly, it was more than disappointment – I was shocked. 15 years later I'm taking a different perspective – nothing is for free. If someone gives you a valuable thing, reward him – pay for it. It's business. Anyway, let's think about solutions – it's not so bad as it looks.
"I'm Qlik Sense Desktop addicted – what should I do now?"
Private Users: I agree. We lose some convenience but we do not lose access to this brilliant technology.
1 First of all, nothing changes until June 30th 2020.
Qlik made it right and gave us some time. If you are preparing for the certification exam or playing around with your data, visualizations, analyses or mashups, you have another 7 months to do it – quite a long time.
2 What's then? Actually, in some area, you have timeless access to Qlik… QlikView.
Indeed – QlikView Desktop is still available for download. If you are a private user, you can take an advantage of the 'Qlik Sense older brother' – the software which made Qlik a BI leader for several years. Using a Personal Edition license (free of charge) you can still play around and analyze data. I do it! Someone told you it looks nasty? Well, definitely Qlik Sense interface looks more fresh. But as it comes to a dashboard look, I can assure you can achieve much better result than in Qlik Sense (unless you are a web-developer). The paradox is, you have more control on visual side of your app in QlikView than in Qlik Sense as a non-technical user. You only need two things then:
sense of aesthetics
and a deeper dive into object properties
Still sceptical? Follow my LiN profile to see first result of QlikView ReDesign example in upcoming weeks. Apart from that, keep in mind both tools QlikView and Qlik Sense use the same QIX engine. Consequently, the data modelling concept is very, very similar. The function set and formulas are pretty much same (just a few little differences).
3 "No, no, no … I don't wanna hear about QlikView! It's gonna to die soon!"
I don't think so. There is no doubt that having two major products is a hard nut to crack for Qlik. Two similar products means, higher maintenance cost – in all senses of the phrase and some confusion. However, I sometimes have the impression Qlik is disproportionately punished for that by the market, especially 'independent' experts or organizations. It's not coincidence that global organizations do not want to leave QlikView. As a classic Volvo – despite certain deficiencies in 2nd decade of 21st century, it's still a world-class car … software. I had never had a problem to recommend either QlikView or Qlik Sense to clients. To sum up: as a new client you can't buy QlikView any more but you can use QlikView Desktop until Windows dies.
4 As long as you are a private user I assume there are two major reasons for using Qlik Sense Desktop.
First: learning the technology to increase your skills and then passing the exam, getting better job, etc. Second: you have a sort of 'scientific soul' and analyze everything from home expenses, through running times up to an average number of gums chewed daily. If both are correct, I can assume you might be a student. If so, I have a great news for you. You can get much more for free within The Qlik Academic Program. Not only the software, but free access to Qlik Continuous Classroom and even more.
5 "I'm not a student, sorry"
Got it. So… Fella, then you have another 30-60 days (available trial extensions) after June 30th to make yourself familiar with Qlik Sense Business and continue having fun with Qlik. After that, you need to listen to an old classic hit of Metallica
The sad truth is Qlik is a privately owned company whose major goal is to make profit, not to deliver world-class technology to geek like us for free. Anyway, including all mentioned above, it's still free for minimum 9 months from now on. Fair enough, isn't it?
Take a look at the short summary below: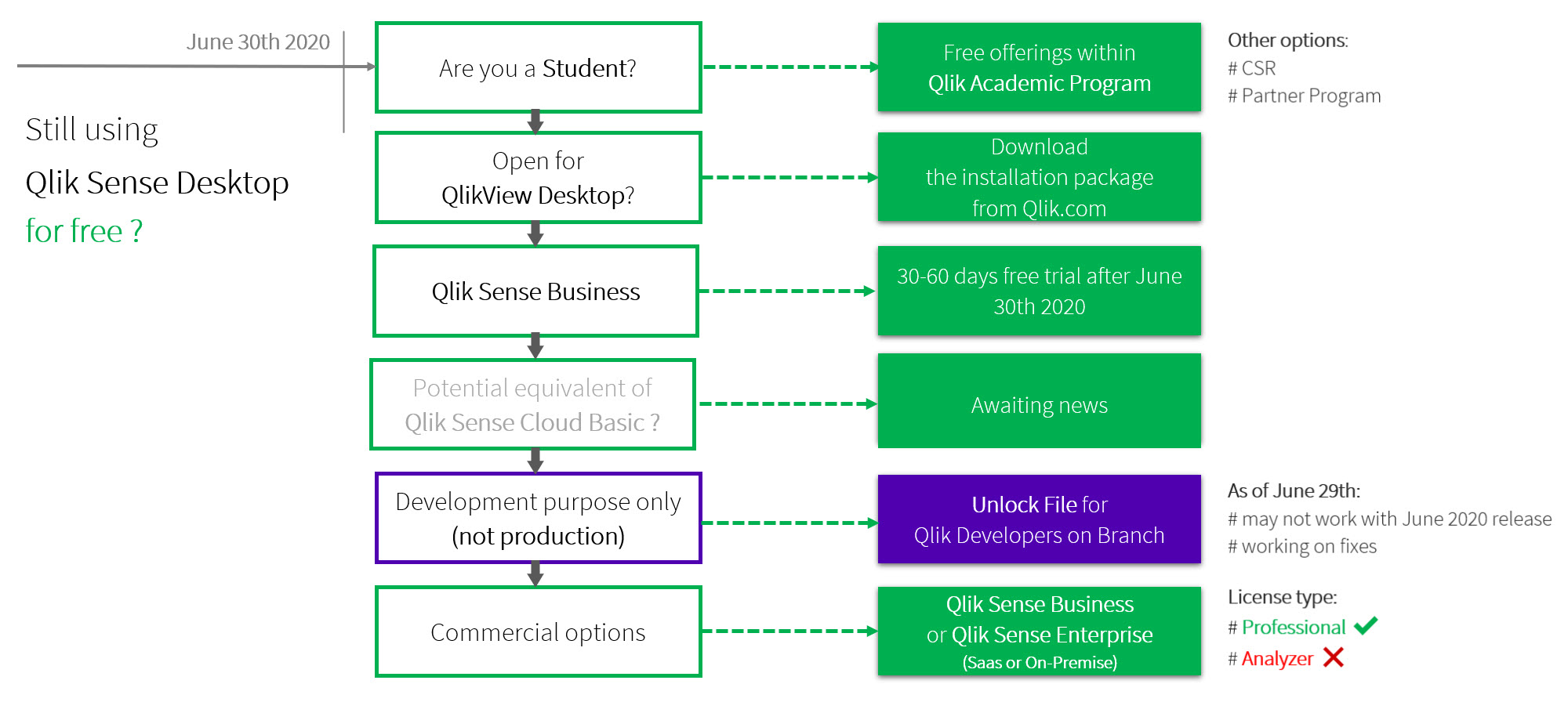 Next article
"Well, I'm not ac-tu-all-y …. a private user" – oookey, I got it, I got it … low budget, no time to call a Qlik partner… and accidentally you have 30 Qlik Sense Desktop users in your company  – changes from a commercial user perspective. Stay tuned.